THE PGC TOURNAMENT INDEX
For all Premier Golf Club tournaments, we only use tournament scores to calculate a players index (no longer using GHIN for player handicaps). We only use the PGC Tournament Index (and not an outside USGA Index) because players' scores in PGC tournaments are knowingly verified by their competitors and the Tournament Director. In addition, all players are playing the same course conditions and tournament atmosphere.

If you are playing for the first time in our tournament with an existing GHIN index outside of Premier Golf Club or with another USGA handicapping service, you will receive 80% of your handicap index until you fulfill your 3 round requirement to establish an official PGC tournament index.

Once a tournament player has completed at least three (3) tournament rounds in the PGC Tournament Series, that player will have obtained a PGC Tournament Index, which will only factor scores played in PGC Tournaments. Once obtained, the player's Tournament Index will be used to appropriately flight the individual. A verifiable USGA Index will only be accepted by the tournament director if a player does not have the minimum PGC Tournament rounds recorded (3).

The PGC Tournament Index is calculated by the following chart: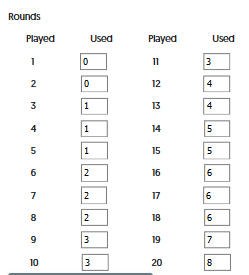 Use this table to determine how many rounds are used in the PGC Tournament Index calculation.
3 – 5 rounds, your best round is used as the differential.
6 – 8 rounds, best 2 rounds.
9 – 11 rounds, best 3 rounds.
12 – 13 rounds, best 4 rounds.
14 – 15 rounds, best 5 rounds.
16 – 18 rounds, best 6 rounds.
19 rounds, best 7 rounds.
20 rounds, best 8 rounds.

The formula to calculate a PGC Index is identical to a USGA Handicap Index.

CLICK HERE TO VIEW COMPLETE FAQ OF THE NEW PGC TOURNAMENT INDEX

GOLF HANDICAP CALCULATION CHANGES FOR 2020:
Before 2020, the calculation of course handicap was done using this formula: Handicap Index X Slope rating / 113

The 2020 calculation is done using this new formula: Handicap Index X (Slope Rating/113) + (Course Rating-Par)

Notice the changes; the new formula includes course rating minus par. These changes were done to accommodate players who play from different tees. Because they are playing with different benchmarks, there is a need to make handicapping more fair.
NO REFUND & CANCELATION POLICY: THERE ARE NO REFUNDS – Due to our credit card merchants policy (Paypal) to not return processing fees (2.9% + $0.30) for refunds issued, your entry will be kept as credit towards a future event. YOU HAVE ONE YEAR FROM THE CANCELATION DATE TO USE YOUR CREDIT. A tournament credit may be issued only if canceled within the advised 24-hour window..
All registrations must be canceled directly with the Tournament Director no later than 24 hours prior to the day of play. If your reservation is NOT CANCELED by this time or you are a "no show" on the day of play, your green fees will not be credited as the golf course charges once the headcount provided is final 24 hours prior to play. ADDITIONALLY, your prize fund and/or skins entry will also be forfeited to the designated flight pots.
TOURNAMENT PAYOUT PERCENTAGES:: We pay the top 3 gross and net for each flight. The payout percentages for gross and net are as follows:
1st – 22%
2nd – 16%
3rd – 12%
However, we do round "up or down" to create a balanced payout among the top 3. For example, if the prize fund pot is set $420 (21 players), the payout is will be:
1st – $90
2nd – $70
3rd – $50
Prize payouts are typically distributed 1-2 business days following the conclusion of the tournament. Payouts are made based on the way you provided payment for the event (ex. Venmo, Zelle, or Cash). Cash payments are held until the next event you participate in.
There could be instances where there may be further delays in distributing prize payouts due to my Venmo account exceeding its maximum weekly sending limit ($4,999.99). This typically happens where there are back-to-back weekend tournaments with large payouts in addition to our weekly Ocotillo Summer League payouts.
Delays could also occur if your Zelle account has reached its maximum send/receive limit (varies by individual account).

PRIZE FUND & SKINS GAME VERIFICATION ON GOLF GAMEKSEEPER WEBSITE:
To ensure there is transparency with the prize fund and skins pots, we provided a way for you to see who has bought into the prize fund and skins game. Although 95% of all players get in both, we wanted to give you a way where the players can verify the prize pots. To see this, you will need to go to any tournament results page on www.golfgameskeeper.com, go to "gross" tab and you will see an "icon" next to the player's name. Just hover over and it will tell you every pot that the player has gotten in.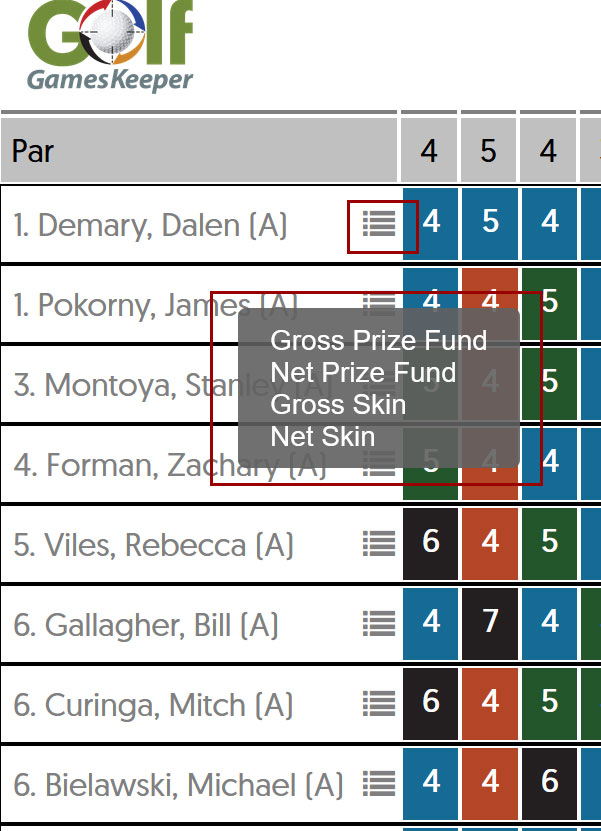 GOLF TOURNAMENT RULES & REGULATIONS
Play will be governed by the Rules of Golf of the United States Golf Association and, where applicable, by the Rules and Definitions. The Premier Golf Club has applied "local club rules" to help with the pace pace of play and to provide for a more enjoyable round.
TEE BOXES: Typically, A/B/C flights play from 1-up. Select A flight players (scratch or better) will be required to play from the back tees. Women play from forward tees (unless they request to play from a different tee box).

SENIOR TEES (60 AND OVER):
If you are over 60 (with valid id), you have the option to move up to the Senior tees (2-up, roughly 6,000 yards). PLEASE NOTE: You must declare with me ahead of time if you are moving to Senior tees. Your handicap will need to be adjusted because of the different set of tees against the field, so you will lose strokes. Once you declare that you are playing from the senior tees, you will be playing there for the remainder of the golf year and you will not be able to cherry pick courses based on your personal preference.

MAXIMUM STROKE COUNT – TAKE NO MORE THAN DOUBLE PAR (LOCAL): To ensure everyone maintains the pace of play, please record a score no more than DOUBLE PAR. Ex) 6 for par 3, 8 for par 4, 10 for par 5.

***SLOW PLAY PENALTY RULE IN EFFECT*** 2-STROKE PENALTY FOR ENTIRE GROUP! If your group is playing extremely slow (1 hole or more behind the group ahead of you) and is the cause for delaying the rest of the tournament field, your entire group will incur a 2-stroke penalty after two warnings. The 2-stroke penalty will be assessed on the hole you received the final warning and added after the round is completed. To report slow play, please ensure the group ahead of you is playing 1 hole or more behind. Then, call the Pro Shop to send the ranger out to notify the group ahead of you. If slow play continues, call the pro shop again and the ranger will come out, determine if the group is 1 hole or more behind, and then assess a 2 stroke penalty for the entire group.

IMPORTANT UPDATE: IF YOUR GROUP DECIDES TO NOT TO LISTEN TO THE RANGER'S INSTRUCTION TO KEEP PACE OF PLAY (KNOWING THAT THE 2-STROKE PENALTY WON'T AFFECT YOUR SCORE) – THEREBY SLOWING THE ENTIRE GROUP, YOU WILL RECEIVE A 1 TOURNAMENT SUSPENSION.

PLEASE PLAY READY GOLF!!!

***NEW LOCAL OUT OF BOUNDS/LOST BALL RULE (2019)***
New rule: A new local rule was introduced with the newest edition of the Rules of Golf when they were released in 2019. The new stroke-and-distance local rule allows players the option of dropping in the fairway if they so choose. For 2-penalty strokes, estimate where you think your original ball is lost or where it went out of bounds. Then create an imaginary perpendicular line to the fairway, no closer to the hole. From there, you can now drop anywhere within two club-lengths behind the line. The next shot will be your fourth.This rule keeps groups moving and speeds up play.

***If your ball did cross grass and is deemed lost, please refer to our Local Desert Rule below***

FOR COMPLETE EXPLANATION OF THE STROKE AND DISTANCE RULE, PLEASE VISIT: WWW.USGA.ORG

***LOCAL DESERT RULE EXPLANATION***
You have a maximum of 3 minutes to look for a ball. Then the our Local Desert Rule IS IN EFFECT – If your ball crosses over grass on the way to the desert and did not go OB:

The original ball does not have to be found to apply the "Local Desert Rule" when there is reasonable certainty that the ball did cross grass and did in fact come to rest in the desert and searching for the ball would likely delay play.
If your ball is found, the ball can be played as it lies in the desert without penalty.
OR
The ball can be played from a point within 2 club lengths of where it last crossed grass with a one stroke penalty. Relief is NOT the nearest grass, it is where your ball last crossed grass! (e.g. if your drive crosses grass and you chose this option, you're hitting 3 after dropping 2 club lengths from where your ball last crossed grass). The player and the players in the group must agree to the point of entry where the ball last crossed grass.
OR
The ball can be dropped within 2 club lengths of where the ball lay no nearer the hole with a one stroke penalty.
OR
The ball can be dropped behind where the original ball lay keeping that point directly between where you drop and the hole with a one stroke penalty. You can go back as far as you want. (e.g. if you find your drive in a bush and you choose to drop back on a direct line, you're hitting 3 after your drop.)

If your ball DOES NOT CROSS OVER GRASS on the way to the desert:

Play a provisional ball. Clearly state that you are playing a provisional.
If the ball is found it can be played as it lies in the desert without penalty. (e.g. if your drive goes straight right never crossing grass and you find it in the desert, you're hitting 2).
OR
If the ball is found but unplayable there's 3 options: 1) you can drop 2 club lengths from that spot (e.g. you drop out of a bush you've driven into with a one stroke penalty, you're hitting 3); 2) drop back on a line keeping that spot directly between you and the hole (e.g. you drop 5 yards directly behind the bush, you're hitting 3); 3) you can play your provisional (your provisional is like taking a stroke and distance penalty and you're hitting 4!). BE WISE!!!
OR
If the ball is not found, instead of driving back to the tee-box and slowing down the pace of play, we advise you to utilize the new 2019 LOCAL OB/LOST BALL RULE (see above). For 2-penalty strokes, estimate where you think your original ball is lost or where it went out of bounds. Then create an imaginary perpendicular line to the fairway, no closer to the hole. From there, you can now drop anywhere within two club-lengths behind the line. The next shot will be your fourth.

NOTE: The Desert Rule applies to any shot you hit, NOT only your tee shot.


BALL IN DIVOT (LOCAL RULE): If your ball lands in a divot on the fairway, you may move the ball out of the divot without penalty. Please be sure to announce to a player in your group before moving ball out of divot.

BALL IN BUNKERS WITH NO RAKE (COVID-19/LOCAL RULE): Due to COVID-19, most courses do not have rakes in the bunkers. If a player's ball to come to rest in an unmaintained area of sand (ex. footprint, water retention, etc), treat as ground under repair and take free nearest point of relief within the bunker.

PUTT EVERYTHING OUT: Picking up or conceding opponents putts are not allowed. The only time you should be picking up is if you have already reached max double par on the hole.

QUESTIONS ON A RULING: This is not the PGA tour, so let's not get too serious. If you have a rules question, please ask your playing partners on how to proceed. We are all here to have fun!

PLAYER CODE OF CONDUCT POLICY: The Premier Golf Club has an expectation that each player adheres to commonly accepted standards of golfing etiquette during competition and exemplary behavior (off course) at all times as they are representing our club. Failure to comply to these standards will result in being removed from the league and having their membership revoked with no refunds.

FLIGHTED GROSS SKINS GAME: Qualifying skins will be determined by "par or better" within each flight.

TIE-BREAKERS: The tie-breaker will be determined by a scorecard playoff by taking the lowest gross score starting from the #1 handicapped hole (if tied, then #2…#3 handicapped holes, etc.) until a winner is decided.

PAYOUTS & AMATEUR STATUS: All of our cash side games (prize fund & skins) are OPTIONAL for each player and is considered an acceptable form of gambling according to the Rules of Amateur Status.